Phone it in to us—we've done the heavy lifting for you!
This post contains affiliate links.
We've seen tremendous growth in the kid-safe technology space over the past few years. Had such tools been in place when portable devices went mainstream, it would have saved many parents and kids from so much heartache and regret.
But, good news! Today parents can choose from several kid-safe phone options and we want to help your family find the one that is right for you.
We only share products we use and recommend. Currently we own each of the phones listed here because this is our job (ironic, we know!). We've spent quite a bit of time testing these devices; working with our pre-teen and teens during the process. We feel each of these devices fulfill specific needs for different families.
But first, a disclaimer…
We want to make it clear that we believe the best childhood is the one that is untethered to a device. While we applaud the advancements that have been made in kid-safe technology, we still believe in delaying a device as long as possible. Just because kid-safe phones exist doesn't mean your child needs one. While technology has changed, what kids need (unstructured play + loving caregiver!) has not.
We know not everyone agrees with the slow-tech approach and that's okay. Our young children (10 and under) do not own a personal device, our 12 and 14-year-old share a family kid-safe phone, and our 17-year-old has a personal device with limited capabilities. We are huge proponents of taking things slow, and have seen big benefits in our home with our five children.
If your child or teen has a legitimate need to communicate with you when you are apart, or connect with friends, a team, or community/church group, then it's time to have the cell phone conversation.
Establish a Need First
Years ago, we wanted a better answer to the question, "Can I have a cell phone?" We created a self-evaluation with our kids to talk about what it really means to be responsible and mature enough to have a cell phone. Our "Am I Ready for a Personal Device?" self-evaluation has since been downloaded by thousands of families to determine cell phone readiness. If you are needing some help making this important decision, you can grab the download here!
Create a Family Tech Plan & Prepare
We also recommend you create a family tech plan with your kids and prepare them by having essential conversations about healthy tech use. If you have your own tech habits in place and are familiar with the research on screens, our discussion guide is a great fit for you.
If you'd like more hand-holding and support, we recommend utilizing our course Creating a Tech-Healthy Family or Untangling Teens & Tech (depending on the ages of your kids) to help you prepare and help your kids as they gain more freedom on devices.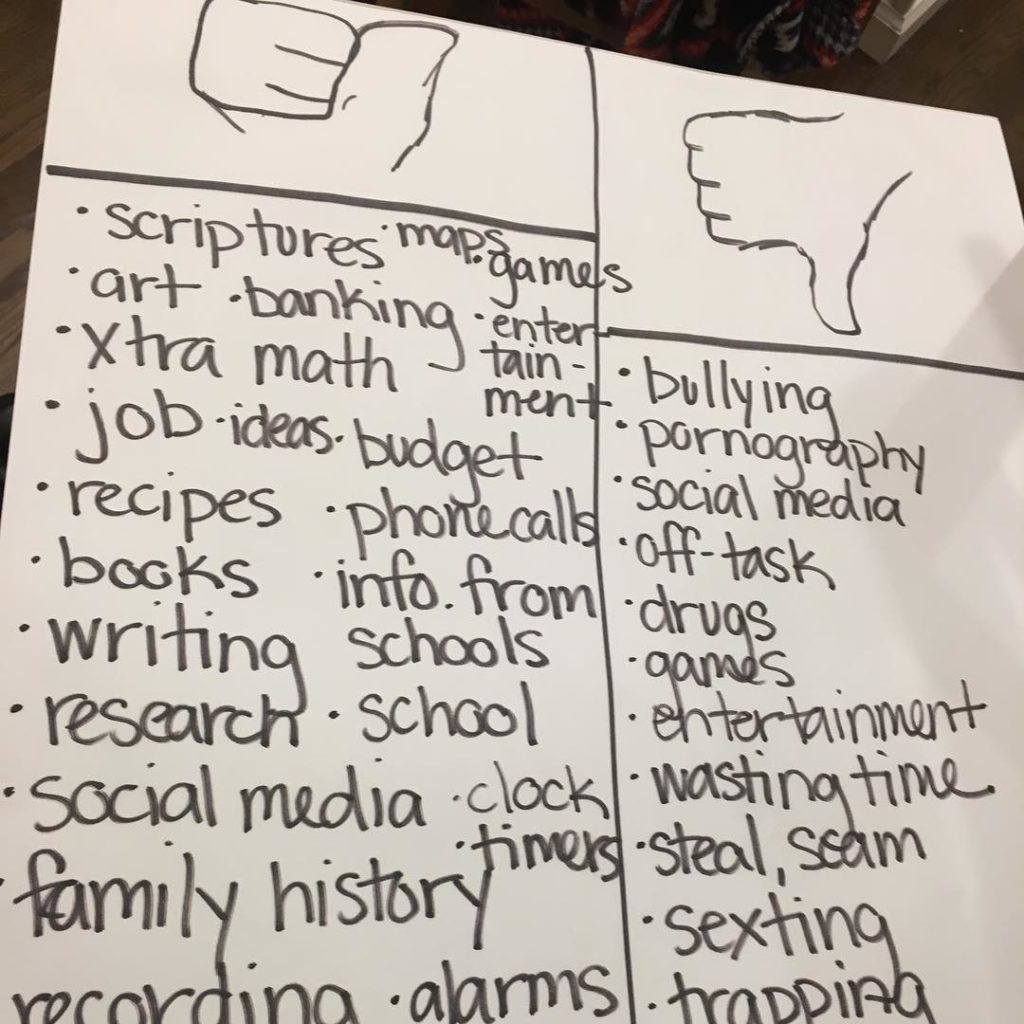 Use Our Smartphone StairSteps for a 4-Phase Slow-Tech Approach
Years ago I, Andrea, was frustrated that families had been thrown into this technology trap with little guidance or tools. One night I prayed for direction and the scripture "line upon line, precept upon precept" came to my mind. Whatever your beliefs, I think this concept is applicable to any parent who wants to teach their children good habits. We learn step by step!
Then, this image popped into my head: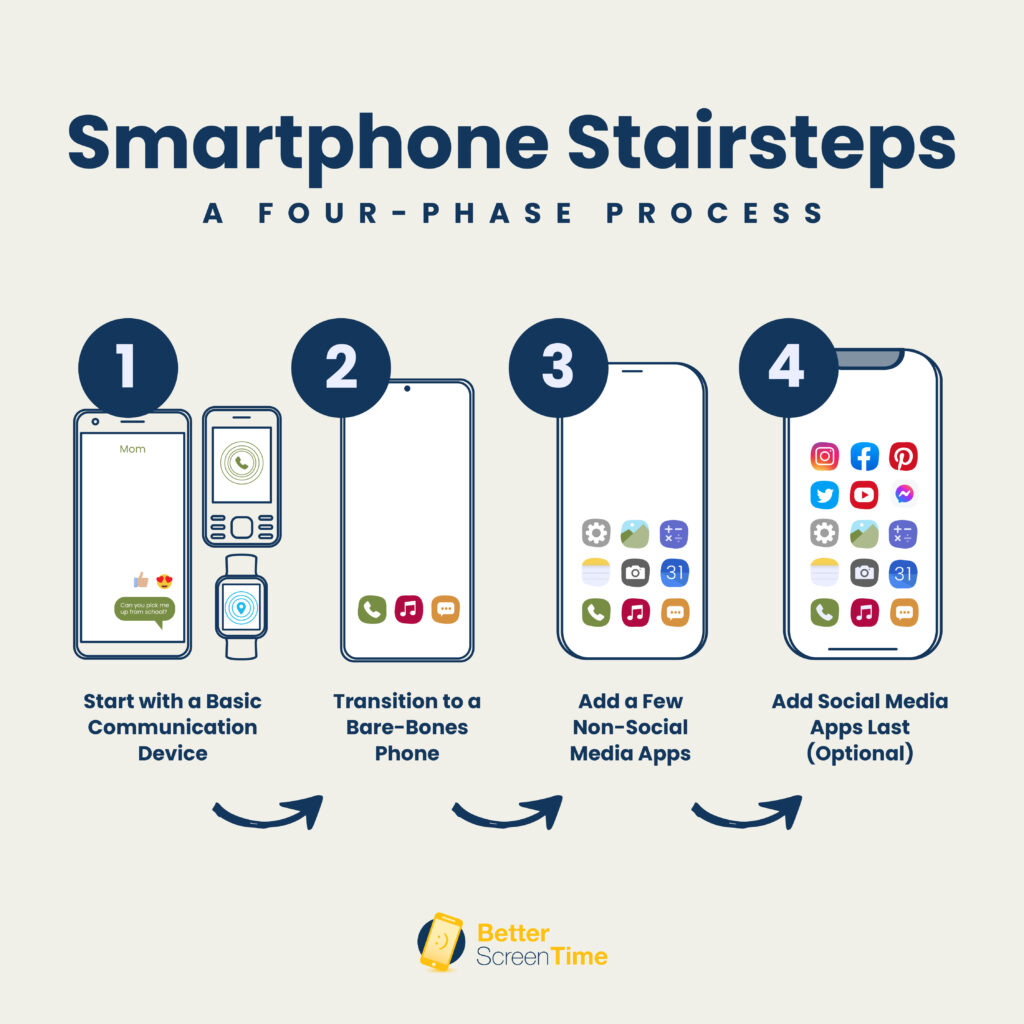 This was before kid-safe phone options existed. We then said goodbye to the smartphone we had erroneously handed over to our middle schooler and went back to a brick phone. That was the best option for us at the time. As more kid-safe devices have come onto the market, we've watched this 4-phase process become much more doable!
Kid-Safe Options
Assuming your child has passed the evaluation and you feel they are ready for this big step, let's explore the kid-safe phone options! Please keep in mind that each of these phone features are subject to change. We'll do our best to keep the post updated.
We're not even mentioning pricing because prices fluctuate so often, but most of these companies offer great deals periodically throughout the year and we always have a discount code ready for you on any of these phones. (Check them out at the bottom of the post!)
We started Better Screen Time in early 2018. When we heard about the Gabb Wireless Phone, we knew we wanted to support their mission and were hopeful it would be a solid solution. We purchased one of the first 100 Gabb phones when they launched their crowdfunding campaign in 2019.
It turned out to be just what we hoped it would be: an internet free smartphone that we could hand over to our older kids without worrying about anything. It is simple to use, and is kid-safe right out of the box! We love it's simplicity and the fact that our middle schoolers can text, call, and use basic functions like a camera, music, and calculator, without the distractions and dangers that come with an app store and social media.
Recently, Gabb introduced a smart watch, which is geared toward younger children. The watch can call up to 10 approved phone numbers and has GPS tracking capabilities.
Currently our 7th and 8th graders share a Gabb phone and we own a Gabb Watch which we have sent with our 10-year-old a few times when he's gone to the park with friends. Even with all the newer phones on the market, we still absolutely love the charge-and-go ease of Gabb.
If you're looking for a simple, safe solution, Gabb Wireless can't be beat!
Reality Check
We have received SPAM texts on both the Gabb, so I recommend talking to your kids about this and teaching them what to do when they receive these. Gabb just introduced text filtration, meaning 99% of explicit images or text won't go through on a Gabb phone if it's from an unknown number. They have more additional safety updates coming soon! Stay tuned…
Show and tell a parent
Block the phone number
Delete the text
More Advanced Options
While it is possible to strip down an iPhone or Android and use built-in tools such as Apple's Screen Time and Google's Digital Wellbeing, there are limited options and there are always loopholes! (Our 17-year-old has an iPhone with limited use and we've learned this through trial and error.)
We're thrilled to share two safer options that are a perfect fit for phase #3 in our Smartphone Stairsteps—Troomi and Pinwheel! Both phones have parent portals that give parents more options to help older kids and teens gradually learn to use technology as a tool. They also prioritize child safety and wellbeing, which is an area Big Tech has largely ignored.
What's the Benefit of a Parent Portal & Additional Apps?
For older kids and teens:
Want or need access to some apps
For parents:
Want to know if a text has been deleted
Ability to limit time
Limit texting
Hand-select apps
Monitor contacts
Tools to establish different screen routines for different times of day in the settings/modes
One caveat for advanced phones with app access: anytime there is internet access of any kind, there is the possibility of a loophole. We've noticed Pinwheel and Troomi have both been very forthcoming when they are notified of possible workarounds. They share this information via email and inside their parent portals and remove the apps. Hooray for tech companies willing to put kids first!
The Troomi smartphone is a newer arrival on the kid-safe phone market and they are adding new features and capabilities regularly!
One huge plus of Troomi is the ability to pick a plan that's right for your child and your budget. They have 3 different plans: Do, Dream or Discover so the phone can grow with your child/teen. You can start with basic texting/calling and then move up to using approved apps. It's nice to only have to pay for simple functions if that's all you're using.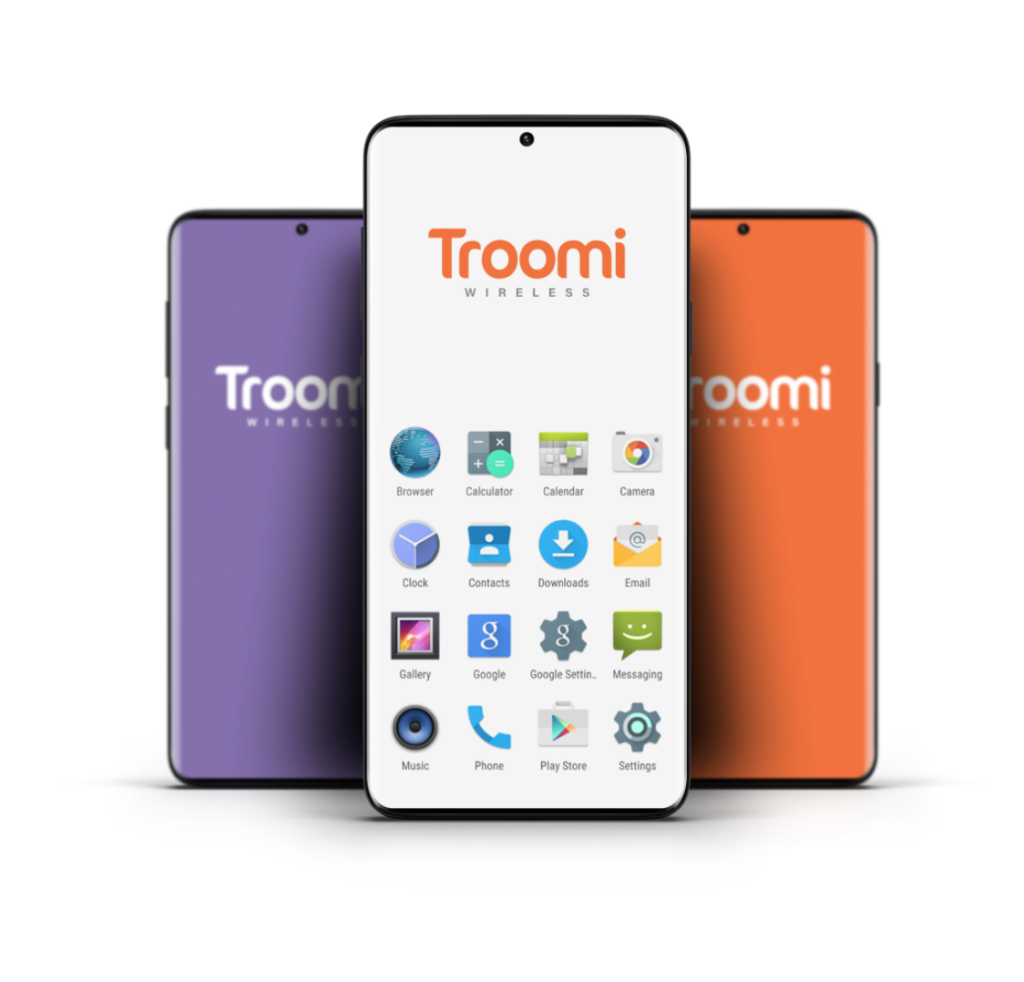 Troomi has "made it their mission to help you and your kids avoid the unavoidable: social media and gaming. To accomplish this, Troomi phones have altogether removed social media platforms, games, and the app store from the equation." We love this mission!
Instead, Troomi has curated their own KidSmart Apps™. These are apps that have been recommended by the Troomi community and vetted for safety by their team. In Troomi's words, "We've avoided apps that are addictive or cause unhealthy distraction from things that matter most—and you definitely won't find apps with loopholes for predators and pornography." The apps are only available with the Discover Plan.
Troomi has a basic parent portal with the ability to monitor and manage your child's calls, texts, screen time, contacts and more. They are looking to add more features soon!
Similar to Gabb, Troomi is a MVNO (mobile virtual network operator). This means you will get your cell service through them and pay them a monthly service fee. They run off AT&T towers, which is helpful to know if you are wondering about reception in your area.
​​Also, you can port a number over from any previous provider. So, if you previously had a Gabb phone (like us) and your older child/teen wants to keep that number, you can port over that number during the checkout process by checking "yes," and then follow the steps.
The Troomi phone and software is one of the most responsive of the four phones we tried and the screen is big (some people like this and some don't—even within our own home!), but it makes for a nice user experience.
Troomi is doing an incredible job of really connecting with parents, evaluating needs, and then turning around and creating what parents are asking for. We love their focus on children's overall wellbeing!
We first tried the Pinwheel phone in late 2020, but it was still in the beta phase (no passcode on the home screen, among other things) and we just weren't quite ready to put our stamp of approval on it. We acquired their newer phone about 4 months ago and have been super pleased with the updates and changes with their software and now recommend it!
Pinwheel has selected therapists and child-development specialists to help them define clear criteria for safe and healthy apps. Like Troomi, they are working to create a phone that will be used as a tool, not a toy.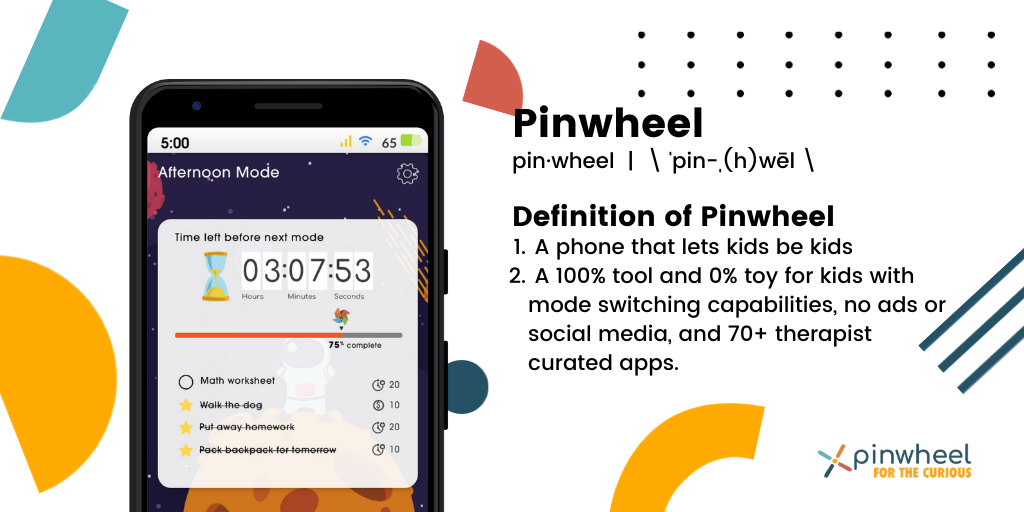 Because Pinwheel has been on the market longer than Troomi, it currently has more apps available. This could be a deal breaker for your pre-teen/teen if they need or want a certain app for school, church, or their team. They list all available apps on their website.
We love the fact that you can use your own cell phone carrier with the Pinwheel phone. We added an additional Ting line (our current provider) on the Pinwheel and we like the idea of being able to manage most of our cell phone bills in one place (minus our Gabb phone). You can see their list of providers here.
For a small monthly discounted fee, you can add Bark monitoring to your Pinwheel, which some parents will appreciate. Bark gives parents a heads up when their software sees a red flag (you set the perimeters from swearing to nudity). This is one extra layer of protection that is completely optional. Some parents like this and some don't! We've found it to be helpful with younger teens who are still needing tech training wheels.
Pinwheel's caregiver portal offers a lot of options for parents to create customized days and modes. You are not required to use them, but they're a great feature. You can also change the phone's functionality as needed (no new phone or plan needed!). Yay!
Simply put, Pinwheel delivers a smartphone that has no ad-driven apps, no social media, no games, and no browser, with a caregiver portal that gives parents options to baby-step their child toward healthy tech use. It's a win-win for parents and kids!
How to Decide?
Which phone is right for your family? This might help! (When an engineer and a teacher marry you end up with spreadsheets like this.)
[1] None of these cameras stood out as better than another. We realize that to do so would raise the price of the phone and since it's phone for kids/teens that's okay.
Each of these companies share even more details on their website. Check them out!
As you explore the options, think about what's most important to you and your child. Is it music? Is it ease of use? Do you really need apps? Every family's needs and priorities will be different.
Our 14-year-old is deciding if she'll choose Troomi or Pinwheel at some point after Gabb, and she even made her own Venn Diagram. (Her idea, not ours!) Peruse the websites with your older kids/teens and give them some buy-in by helping to make this choice.
A Kid-Safe Phone Isn't Enough to Keep Your Kid Safe
Families are incredibly fortunate to have kid-safe phone options now! However, we can't stress enough the importance of modeling, guiding, and teaching tech-healthy habits to your kids.
Remember, just because your child has a kid-safe phone, doesn't mean their friends or the kid on the bus does! And of course, school and home devices without the same protections are a whole other conversation.
Kids can and will be exposed to a lot of junk online. Tools aren't enough to keep our kids safe. They need training, too! Our courses, Creating a Tech-Healthy Family, and Untangling Teens & Tech, will help you to protect against digital dangers and prepare your kids to thrive in a tech-heavy world.
Don't rush this—let kids be kids. Then, when it's time to start introducing tech, choose a kid-safe option!
We're cheering you on,
Tyler & Andrea
Note: We have an international audience and we recognize that not all of you will be able to access these options yet and we're sorry. Really, we are. Let us know if you see similar options appearing in your countries! For now, search for the simplest internet-free option you can find! You can find really inexpensive brick phones on Amazon and order a SIM card from your preferred cell phone provider. And delay, delay, delay!
Discounts & Offers
Gabb: Click here to view Gabb's current deals and use our code BST for the best discount!
Troomi: Get $50 OFF with our code BST!
Pinwheel: Use our code BST to get 10% OFF any Pinwheel phone!
Ting: We are long time customers of Ting. We've been using their contract-free cell service since 2014 and pay an average of $80 per month for 3 smartphones.  Feel free to use our link here to get a $25 credit on a new Ting account! You can use Ting with the Pinwheel.